ABOUT US
[/fusion_text][/fusion_builder_column][/fusion_builder_row][/fusion_builder_container]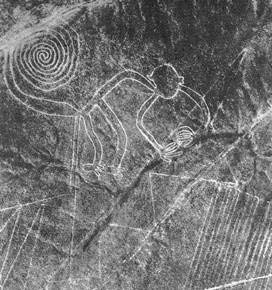 Our branding is based on the Nazca Lines, the series of ancient geoglyphs located in the Nazca Desert in southern Peru called the Nazca Lines.
Scholars believe the Nazca Lines were created by the Nazca culture between 400 and 650 AD. The largest figures are up to 370 m (1,200) long.
The series of geoglyphs range in complexity from simple lines, to stylized animals and foliage. One of the most well-known of the Nazca lines is the monkey.
We chose the image of the Nazca monkey as a symbol for Puzzled Monkey Landscapes as it is a powerful symbol of the efforts that humans undergo to alter the earths surface for aesthetic and artistic purposes.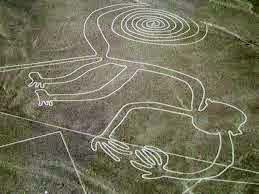 The image of the Nazca monkey beautifully brings together the already memorable name of the company with the puzzling mystery of these particular petroglyphs and further the obvious relevance the Nazca lines have to landscaping.
We felt that in a sense it is the scale of these images which make them the ultimate symbols of the efforts humans have gone to in the past to alter the earth's surface for aesthetic and artistic purposes.
Tracing the outline from an aerial photograph of the Nazca monkey an illustration was made which forms the final graphic.
High end Landscaping, Top quality materials 
Turning your plans and ideas into reality is what landscaping is all about. With a background in Civil Engineering (Hons. from Edinburgh University) I tend to embrace the belt and braces philosophy. We believe it's better all round to spend that little bit extra time getting the preparation right and err on the generous side with materials in order to produce a job that'll never need re-visiting.  All our hard landscaping carries a 10 year guarantee and is regularly inspected by independent assessors who have consistently marked us as excellent for quality of work, site safety and aesthetics.
When it comes to choosing the right material for the job, the range of choices on offer can be daunting. Puzzled Monkey Landscapes can advise you on what works best and help make your final decision.
Photographs in brochures, on the internet or in books never really tell the full story. We are happy to take you to see some of our finished jobs where you can observe for yourself the quality of the work, and how the materials look in reality.
Attention to detail is, in my opinion, what transforms a good job into a great job. We're meticulous with our work and always go that little bit further to make sure your landscaping looks as good as it possibly can.
We are also a member of the Marshalls Register as a Landscape Contractor andDriveway Installer and as such if you use Marshalls products for your job, you will also be eligible for the Marshalls Hard Landscape Guarantee which covers your job whether Spruce Garden Services continues to trade or not.
We install and supply Patios, Driveways, Paths, Steps, Fencing, Walls, Drainage, Sheds, Turfing, Seeding, Planting, Feature points. Generally anything you need to make your garden tailored to suit you . All our work is completed to a very high standard, using top quality materials.
Whether you know exactly what you want or have only a vague idea, call Craig on 07725648481 and we can meet up to discuss how to reach your goal.
Craig and the team were excellent. The quality of the work and materials used is great and I will certainly look to use them again for any gardening work that I have.
Very happy with the service we get from Spruce garden services. They are reliable, hard working, we have them out every 2 weeks and even our neighbours have been using them now. Excellent value for money.
Craig( and Chris ) did a really excellent job and I highly recommend them.They wasted no time in getting my garden into shape and cleared up after them Craig knew a lot about gardening and did a great job of pruning back overgrown and wayward shrubs.I wont hesitate in getting him back again.
Craig was very professional and I got exactly what I wanted. My fence is lovely.
We can thoroughly recommend Craig and team, they transformed our front garden and continually found new ideas to enhance the original vision. Hard-working, high quality, reliable, honest and friendly. One year on and we have been using them for ongoing maintenance and have now booked them to transform our back garden.
Craig and the team have just finished the revamp of my garden. I can thoroughly recommend Spruce Garden Services. The quality of the job was first class. Craig kept in constant touch providing regular updates on the status of the work. Exceptional standard of workmanship for fair price.
Craig and his enthusiastic team did a brilliant job on our small garden and rockery. We found Craig to be very knowledgable about plants and designed a garden that suits our lifestyle and budget. We would have no hesitation in recommending Spruce Garden Services.